Hello everybody,
Now let us talk about my ambition. What is ambition? This question arises in the young minds and some tries till they achieve their ambition. And some give up when they gets an good opportunity.

Currently I'm in India. But I wont come under "giving up" category. My ambition is to become an Air Force Pilot in Royal Air Force or US Air Force to serve them. Everyone ask reasons why to join Air Force still there are many good opportunities? Why to fight for other country? You are doing non-religious work.... These are all the questions asked by the people. In some other case parents too won't co-operate by listening others. So how it is possible to reach our goals without co-operation?

According to my knowledge I always faced negativity in my life in India. Here, from admission to job is totally based on our caste. In higher engineering Institutes like IIT's (Indian Institute of Technology), NIT's (National Institute of Technology), AIIMS (All India Institute of Medical Sciences) and some engineering colleges etc. And corruption everywhere. The most worst thing is fighting between counties (States of India).
My message to colleges (in India) those who follow caste system & remarked me that I'm not eligible according to my caste is written down in bold & underlined
Hey you all idiots, Bastards keep your caste based admissions in your ass.
It's a prefect partiality that we must take admission after paying heavy donation based on our caste!


India never celebrates International Men's Day. This is total a partiality of Indian Government. I tried wishing people "Happy men's day" but some people replay, "Is today is men's day? We not yet heard what is men's day?" Some people say "Gay celebrates men's day." Indians even don't know when is International Men's day.

Similarly like Indian reservations like SC/ST, I too have reservations in my heart. My heart has two departments i.e. Love, Patriotic
Reservations in my heart as per department -------
In Love department - 100% reserved for the person to whom I love
In Patriotic department - 50% Reserved for U.S. and 50% reserved for U.K.
-----------------------GOD BLESS AMERICA AND HER PATRIOTS----------------------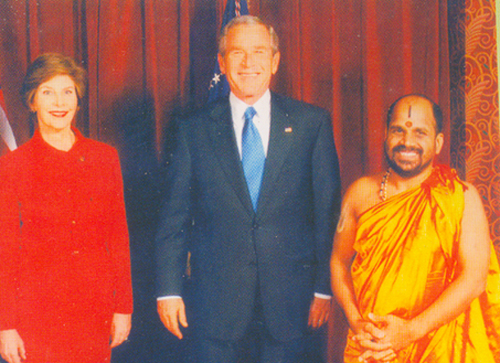 His Holiness St. Sugunendra Teertha (extreme right) with our United States PM
I am Madhva Bramhin by caste and I am disciple of Saint Sugunendra Teertha of Shri Puttige Matha.
I origionally belongs to Uttaradi Matha but I like Saint. Suguneendra Teertha than any other Madhwa saints. The present pontiff of Uttaradi Matha is His holiness
St. Satyatma Teertha
If you have any comments mail me at
vinayamerican.hudson@gmail.com
All rights reserved