Don't have time to wait? Click Here to listen British National Anthem in mp3 format
I wanted to say something about our British National Flag (Union Jack). Lets start with National Anthem.
1. God save our gracious Queen,
Long live our noble Queen,
God save the Queen!
Send her victorious,
Happy and glorious,
Long to reign over us;
God save the Queen!
2. O Lord our God arise,
Scatter her enemies
And make them fall;
Confound their politics,
Frustrate their knavish tricks,
On Thee our hopes we fix,
God save us all!
3. Thy choicest gifts in store
On her be pleased to pour;
Long may she reign;
May she defend our laws,
And ever give us cause
To sing with heart and voice,
God save the Queen!
4. Not in this land alone,
But be God's mercies known,
From shore to shore!
Lord make the nations see,
That men should brothers be,
And form one family,
The wide world over.
5. From every latent foe,
From the assassins blow,
God save the Queen!
O'er her thine arm extend,
For Britain's sake defend,
Our mother, prince, and friend,
God save the Queen!
6. Lord grant that Marshal Wade
May by thy mighty aid
Victory bring.
May he sedition hush,
And like a torrent rush,
Rebellious Scots to crush.
God save the Queen!
The National Anthem is sung when Queen makes a public appearance and played by British Broadcasting Corporation (BBC) every night before close down.
Meaning of this flag - Normally this flag is called "Union Jack" and it represents four countries united under one Government. The four countries are England, Scotland, Wales & Northern Ireland. So her name is United Kingdom. Her name is also known as Great Britain, Britain etc. This is physical meaning of this flag.
Below there are four flags which the flags of England, Scotland, Wales and Northern Ireland




England Scotland Wales Northern Ireland
These four countries United under one Government. Hence it is called United Kingdom. But by respect I call her as Great Britain. And hence British Flag is called Union Jack.

Inside Meaning of this flag- This is not only the Union Jack but also the flag of justice. Great Britain is called the land of justice. Only lucky people take birth here in Great Britain. And remember one thing those who insult/defame British National Flag (Union Jack) will never attain success. Insult of this flag is equivalent to insult of the four saints. And this is fact.
Wanted to see a British Rose? See below.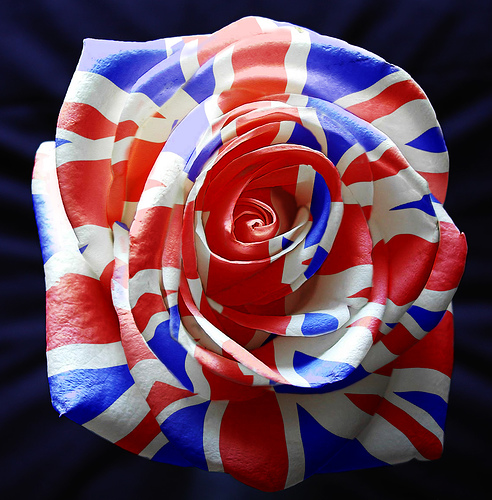 BRITISH ROSE

This is rose flower colored with the Great Union Jack. I hope everybody likes this pic. You can also save this pic and keep as your desktop back ground. To save this pic, right click on the image and click save as.
If you have any comments mail me on vinayamerican.hudson@gmail.com
All rights reserved